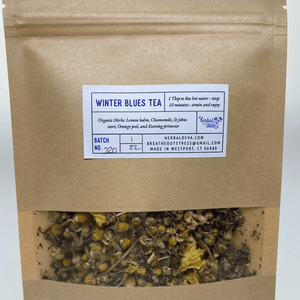 Winter Blues Tea in kraft bag
Regular price
$14.99
$0.00
Unit price
per
Organic Ingredients: 
-Lemon Balm
-Chamomile
-Evening Primrose (flower and leaf)
-St. John's Wort 
-Orange Peel
it's a great tea year round for people who miss the sunlight and get the blues when we have less sun. A beautiful gentle relaxing flavor like nothing else!
We harvest the evening primrose flowers all summer long before sun up!
Made with all organic ingredients:
Lemon balm, Chamomile, Evening primrose leaf and flower, St.johns wort, Orange peel.

Caution: St. John's wort herb is contraindicated with most pharmaceuticals. Talk to your doctor before using.
Comes in 1oz kraft bag
*Follow Directions on our label
---